Web Design
Web Site Design
Do you need a modern vibrant professional website designed?   Are you starting up a new business or do you wish to revamp an existing website and you are working on a tight budget.  The NRG Group can certainly help.
Our websites vary from a simple but attractive single page site to large multi page sites which can include e-commerce, intranet, extranet, systems integration, mobile integration etc. etc.
We currently offer four standard packages for development of new websites which cater for various budgets depending on the size of website required. 
We also provide Custom sites which are priced according to your requirements for those who require more (or less)  than the offered packages.  We can provide and develop a website designed specifically to suit your business.
Through working with our Graphic Design department, we can assure you of the best graphics available to make your website very pleasing to the eye and improve your photographs if required to make them as clear and vibrant as possible.
Perhaps you already have a website, but you wish to update.  We can provide make-overs for existing sites in improving layout, making sites easier navigated, adding flash, etc.
Whatever your requirements, the NRG Group will certainly give you a website which will be professional, informative, modern, vibrant and will work for you.
Web Site Packages
We currently offer 4 packages to include a Starter Package, a Budget Package, a Standard Package and Premium Package.  These packages are designed to suit those who currently do not have a website and require a domain name registration and domain name hosting.
All these packages include as standard:
- Domain Name Registration
- 1 Years Web Hosting
- E Mail Accounts
- Auto Forwarders and Responders
- Web Mail
- Search Engine Submission

Portfolio

Below you can see some of the web sites we have worked on. To view the site itself click on its image.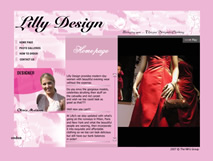 Lilly Design is a website that was developed entirely in Flash, giving it smooth and stylish feel, suitable for a fashion designer.
www.lillydesign.co.uk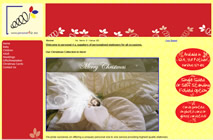 The Personal 4 U site has been designed as on-line shop for purchasing customised cards and stationnary such as birth announcements, birthday cards, invitations or Christmas cards.
www.personal4u.biz
Pricing
Packages and Comparisons
Cost
Pages as Standard
Cost per Additional Page
Domain Name
1 Years Web Hosting
Email Accounts
Auto Forwarders
Auto Responders
Web Mail
Feedback Form
Search Engine Submission
Photo Enhancement
Favicon (Bookmark Icon)
Extra .co.uk name
Extra .com name (also .biz, .net, .org, .info, etc.)
Starter
£175
1
£75
included
included
1
1
1
included
Not available
Not included
Basic
£30

Budget
£365
4
£75
included
included
10
10
10
included
included
Basic
Basic
£30

Standard
£900
8
£75
included
included
Unlimited
Included
Included
Included
Included
Advanced
Unlimited
Included

Premium
£1600
16
£75
included
included
Unlimited
Included
Included
Included
Included
Advanced
Unlimited
Included

£6 per year for all packages
£15 per year for all packages
While the four packages above will cover most customer needs, we can also offer bespoke packages. If you feel that none of the above meet your requirements, then contact us for a free quote.
Custom Site Development
Whilst the Standard web site design packages are great value for money, they may not be quite what you had in mind. 
Every business is different with different needs and requirements. The four standard packages we offer were designed with new businesses in mind, created to help take away some of the hassle for those that need a straight forward web site. We also use them to show you the type of web site you can get for your money.
Perhaps you already have a domain name set up and a hosting package.  We can provide you with pricing for the design of your site or maybe you have a lot of information to present and are worried the cost for lots of extra pages will be prohibitive.  We can work out a cost effective price so you get a website that is more content rich and will be beneficial to your needs.
- There are a wide variety of special "add-ons" available, for example:
- Animated Technical Diagrams
- Interactive Panoramic Photos
- Automatic Slide Show
- Flash Animation including 3d logos
- Easily updateable news section
- Multi Media Video Clips and Sound
- Even the Latest News Headlines

If you already have a web site and want a Flash intro animation, an animated 3D logo, or similar to add in, we can provide this at a very reasonable price. 
We can provide any of the above add ons at a reasonable rate.  Please contact us for price.
E Commerce
There are a wide range of solutions for ecommerce.  If you wish to sell your products online then we can provide this option within your website. Depending on the type and range of products, intended customers, your current payment methods etc, we can provide you with the right solution for your business at the right price.
Website Makeover/ Revamp
You may already have a web site but does any of the following statements apply?
- My website looks dated
- My website looks "amateurish" and puts off potential customers
- People find it difficult to navigate my site
- My site is difficult to find using the major search engines
- My web site is not getting the traffic I expected
- I want a fresh new image for my company with a new website to match
- My website content is out of date but I don't know how to change it
- I need to add more information to my site but the original website design company will charge me a lot of money to do so.
- I want to add a shopping facility to my site
- I need a cheaper web site hosting solution

We can provide you with a cost effective solution to make your company look professional and ensure you are getting the most out of your website.
Your corporate image and website are your shop window to the world and usually the first point of contact between you and any potential customers.   A badly designed web site will certainly not do you any favours. We can ensure through the extensive knowledge of our Graphic Designers that your image will be professional, eyecatching and memorable.    We also will make your site easily navigated and strive to include the right information to hold your visitors attention. Generally, if visitors cannot find the information they want easily they'll go elsewhere.
Don't get left behind.  Ensure your website is up to date, looks good, is informative, easily navigated and is attracting not only plenty of visitors but more importantly, the RIGHT visitors.  Call us today to see how we can help YOU.
Web Site Design Process
If you are not sure how to go ahead with ordering a website, we can give you an idea of our process.
1. RESEARCH & PREPARE PROJECT ANALYSIS
Discuss by email, telephone or personal meeting your requirements and discuss in detail what you wish to achieve through your website.  Agree price and timescale for development.
2. CONFIRMATION
If you are happy to go ahead with the development of your site, at this stage you give us your consent to begin development of your site and pay a deposit.
3. DOMAIN NAME REGISTRATION
If required, at this stage we register your domain name and set up your web hosting.  We can set up many domain names as required eg.  www.yourname.com. www.yourname.co.uk etc.
4. EMAIL ADDRESSES
If applicable, your new email addresses and settings will be forwarded to you.  If requested/required an initial holding page will also be put in place stating on your webpage "This site is currently under construction"
5. REVIEW OF CONTENT
Once we receive your web site content, we will review and may at this stage contact you again with any queries or suggestions.
6. INITIAL DESIGN CREATED
Based on your content and any design brief & details provided we will develop the look, layout and structure for the site.  We will provide you with a mock up image of your site at this stage.
6. DESIGN APPROVED
If you want any changes or don't like certain aspects of the proposed design then we will revise until you are satisfied.
7. WEB SITE CREATED
Work will start on putting together your web site, enhancing the photos and laying out the content provided as per design.
8. WEB SITE CHECKED
On completion, the site is uploaded to a test server. You will have access to this to look through your site. Please check through to make sure you are happy. If any amendments are required i.e. photos swapped round, wording amended, any errors corrected; these will be promptly done.
9. WEB SITE GOES LIVE
Once you're happy with the site then a final invoice will be sent. After payment has been received your site will "go live" and be available on the appropriate domain name(s) for the world to see. Your site will also be registered on the popular search engines.
10. ADMINISTERING YOUR SITE
If you have chosen unmanaged hosting details of your web site details will be forwarded so you can administer your site, email addresses, auto forwarders/ responders etc. If you have opted for managed hosting then contact us if you need new email addresses set up, auto forwarders/ responders created, web pages amended, etc.