Servers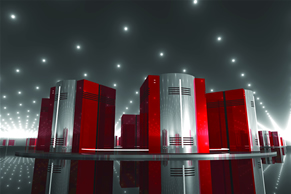 In todays office environment, having a server as a part of your I.T infrastructure can have many advantages, even in a small sized business. Making a server a part of your office network can mean the following.
- Centralised Data Storage - All files and folders can be stored on the server. There is no need for users to store files on their own PCs.
- Flexibility - New technology can easily be integrated into the new system.
- Interoperability - All components on the network(server, PCs, printers, etc.) work together.
- Speed - Due to the server handling all data and resources the speed of the network is improved.
- Backup - With all files and folders stored centrally on the server, backing it all up to tape is easy.
- Support and management - Because the server handles the majority of network and security settings, the role of support is made much easier.
Client Workstations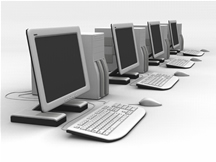 The PC over recent years has become an integral part of the office with so many
computer functions now replacing paper-work. PC's now allow people with access to email, word processing and accounts etc to carry out their daily tasks.
When combined with a network and one or more server, then a system can be created where-by users can easily share resources and information.
Laptops
In business the laptop can be of a huge benefit to those people how find them frequently in and out of the office. With a laptop they can get copies of information, and get details of meetings and sales calls.
Simply put, a laptop allows the likes of a salesman quite literally take his work with him.
Printers
There are now a wide range of printers on the market designed for general use of more specific jobs. Printers are available on the market to do the following
- General office printing of reports letters etc.
- Barcode printers
- Colour high speed printers for booklets, posters, flyers etc.
- High quality photographic printers
What NRG can do for you
No matter if you know exactly what sort of hardware you need, or you are not sure what is needed for a specific function, NRG can help.
By carefully analysing your system requirements we can provide you with a solution that will not only provide you with exactly what you want, but also at an affordable price.